As a local, family business, we go the extra mile for you. We promise:
Request a quote
Tell us your plumbing problem and we'll call you back to discuss your options.
Local family run business since 2006
COVID safe - PPE & COVID safe practises
Same-day, on time service guaranteed 24/7
Lifetime guaranteed work on all jobs
We leave your home clean & tidy
Great online reviews & testimonials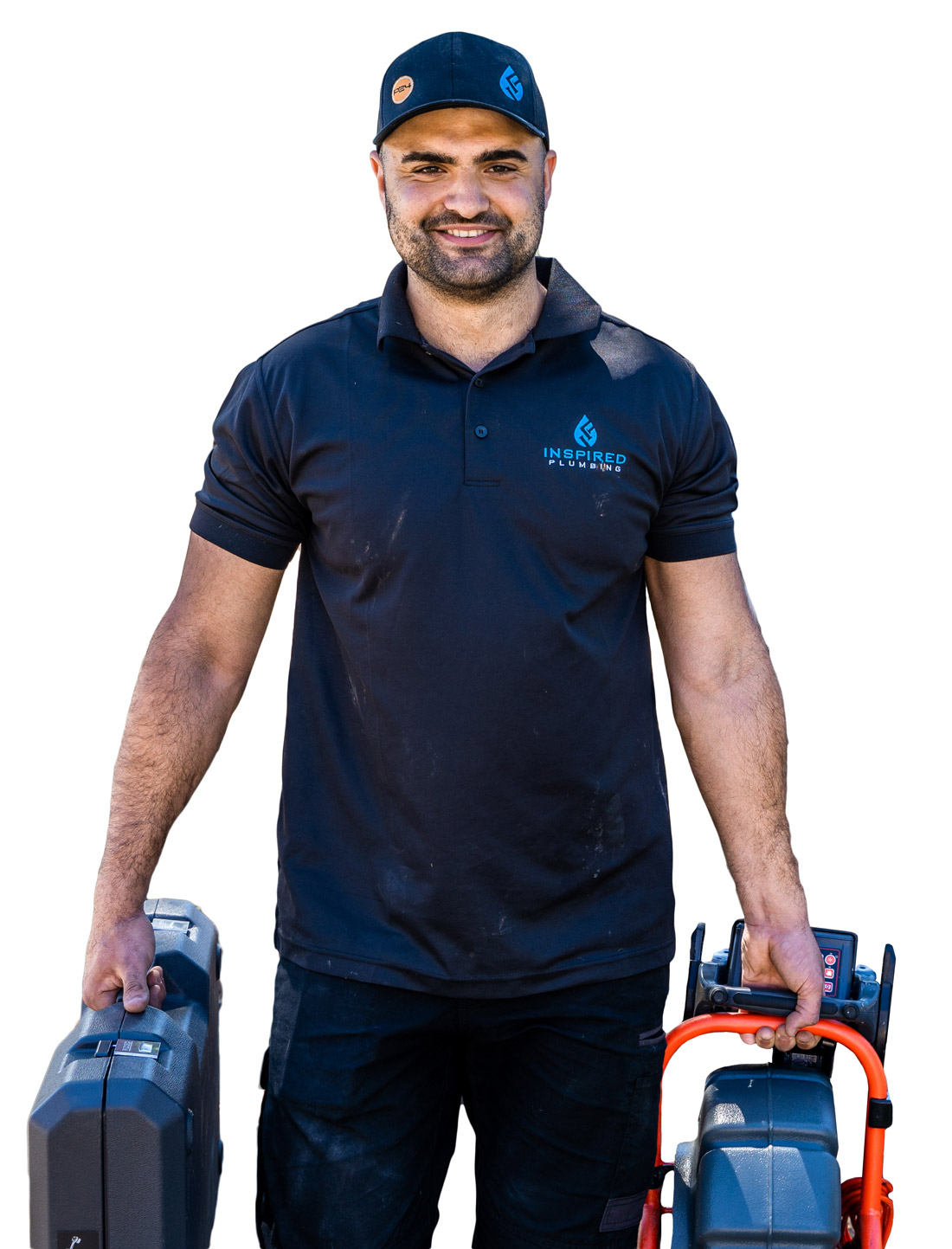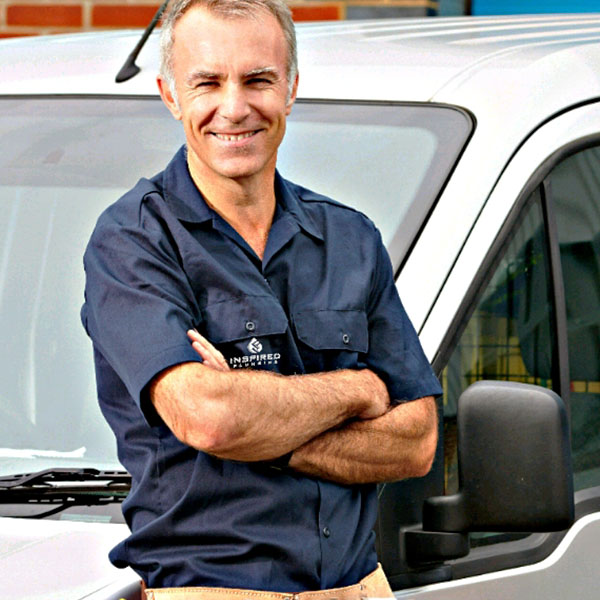 Looking For The Best Local Plumber Near You?
If you're experiencing clogged sinks, toilets, leaky taps, or blocked drains, you're not alone. Our team of licensed plumbing professionals is available to help you 24/7.
With 15 years of plumbing experience, we've seen it all and solved it all - from clogged toilets caused by an adventurous kid's toys to burst pipes from lack of occasional maintenance.
Our licensed professionals are local and available to offer friendly advice, make repairs using proper plumbing tools, or complete installations for your home. We treat every client's home with the utmost respect - we remove our shoes at the door and complete a thorough clean-up after each job.
You'll never be confused about the cost as we offer upfront, flat-rate pricing and guarantee our repairs.
We have plumbers all over the Sydney region, so no matter where you live, we provide a licensed and friendly local plumber to help you with any plumbing problem you may have.
"The inspired team were great when I really needed help with my blocked toilet. Xavier arrived about an hour after my call, and fixed the job fast. Would use again."
Jennie
Annandale
"I've been using Inspired for a few years now and I would recommend them to anyone. Xavier always goes the extra mile for me"
Aiden
Five Dock
"I was really impressed with the job that Xavier did when I had an emergency situation. He got here literally within about 30 minutes of my call, and solved the problem effectively. I would recommend Inspired to my family and friends"
Amanda
Dulwich Hill
3 steps to Inspired service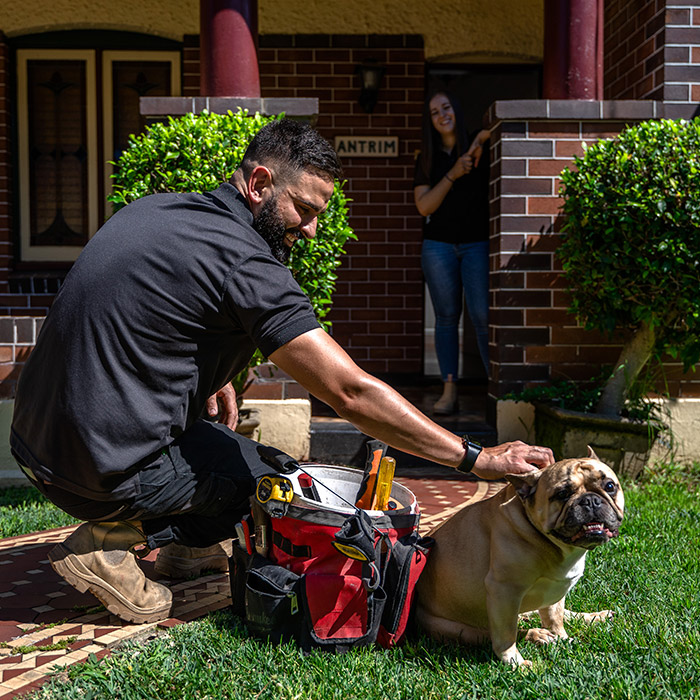 Get advice & book your appointment

Contact us by calling, emailing, using the chat feature on the website, or filling in a form online. A member of our friendly team will advise on your situation, and book a time to suit you.

Friendly, respectful, COVID-safe service

Your local plumber will call you when they are 30 minutes away, and arrive on time. All of our team wear protective equipment, and will observe COVID safe practises.

Lifetime guaranteed work to suit your budget

Your plumber will inspect the problem, and provide an up front quote, with different options to suit your budget. They will also carry out a safety inspection of your home, free of charge.
What To Do If You Encounter a Plumbing Problem
If you're experiencing a plumbing issue, make sure to first turn off the water main to avoid bigger damage and accidents.
Most plumbing jobs involve getting a little wet and messy, so make sure to dress appropriately.
Our local plumbing professionals have helped homeowners fix a variety of plumbing problems. The most common are blocked drains, clogged toilets, leaky taps, and faulty water heaters.
By maintaining your plumbing and addressing any issues right away, you avoid expensive fixes down the road and save on high utility bills.
Did you know that a leaky tap can waste up to 24,000 litres of water per year? Drip by drip, your water and heating bills can add up.
Our local licensed plumbers are available 24 hours a day to quickly assist you with friendly plumbing advice or repairs.
Reach out at any time for on-time, professional, local plumbers near you.
What Makes Us The Best Local Plumbing Team In Your Area?
To maintain your home in top shape, you should pay attention to your home's plumbing. Practice preventative plumbing maintenance, and you'll keep your home safe, sanitary, and comfortable for your family.
Plumbing maintenance is a matter of habit. It includes keeping an eye on leaks, checking pipes under the sink, and doing occasional plumbing inspections. By catching a leaky pipe or tap early, you'll avoid increasing your water bill, reducing your water pressure, or, in worst cases, damaging your pipes and surrounding floors and walls.
We recommend doing weekly checks for leaks under your home's sinks as well as checking for leaky valves. Pay attention to how fast your water drains in your tubs, shower, and sinks.
By practicing regular, preventative plumbing maintenance, you'll reduce your risk of running into big plumbing problems that will disrupt your home life and cost more money.
For professional and friendly plumbing advice or if you come across a continuous plumbing issue, reach out to our local plumbing team.
We are available 24 hours and have local and courteous plumbers across the Sydney region, ready to answer your plumbing needs.
Home Plumbing Explained
Take care of your plumbing, and you take care of your home. Your home's plumbing system is an intricate network of drains, pipes, valves, and more. It's responsible for distributing water throughout your home, for drinking, washing, and waste removal.
By maintaining your home's plumbing, you keep your home safe, sanitary, and comfortable for you and your family. Our licensed plumbing professionals have 15 years of experience serving homeowners around the Sydney region.
For plumbing maintenance advice, repairs, or installations, you can count on our local team of plumbing professionals to keep your home's plumbing in top shape.
Call our local licensed professionals to get plumbing help near you today.
We are your Licensed and Professional Local Plumber
Your home is important to you, and the plumbing throughout your house is an integral piece of keeping your living space safe, sanitary, and comfortable. The home plumbing system is a complex network of interconnected parts, so it's important to only allow a licensed plumber to make any changes, plumbing repairs, or installations.
With 15 years of experience, our local team of plumbers has supported homeowners in solving a wide variety of plumbing issues, Sydneywide. We prioritize safety in our work, use only state of the art tools, and provide official contracts with guaranteed repairs.
When you work with one of our local plumbers, you receive on-time, respectful service - we do a thorough clean-up after each job and make sure to take our shoes off at the door. Don't get caught up with a fraudulent plumber who could create dangerous conditions for your home by not working safely and properly.
We have licensed plumbers near you, available to help with any plumbing issue or question 24/7. Call us today to work with a local licensed plumbing professional.
Get plumbing advice
Get free advice from a licensed plumber. Ask a question and we will contact you with advice.
Request a call back
Can't call us right now? No worries, leave your details and we'll call you back at a time to suit you.
Request a quote
Tell us your plumbing problem and we'll call you back to discuss your options.