As a local, family business, we go the extra mile for you. We promise:
Request a quote
Tell us your plumbing problem and we'll call you back to discuss your options.
Local family run business since 2006
COVID safe - PPE & COVID safe practises
Same-day, on time service guaranteed 24/7
Lifetime guaranteed work on all jobs
We leave your home clean & tidy
Great online reviews & testimonials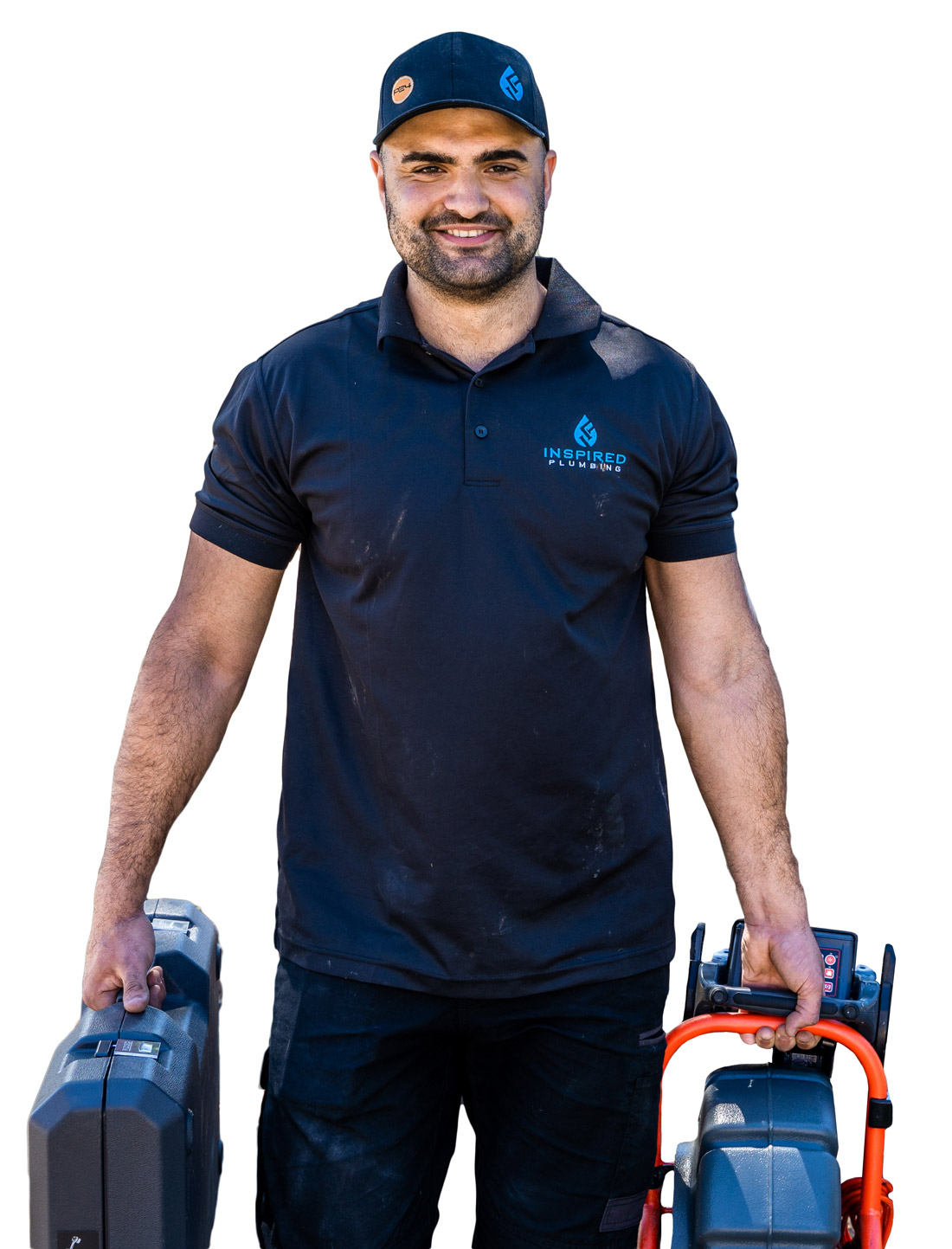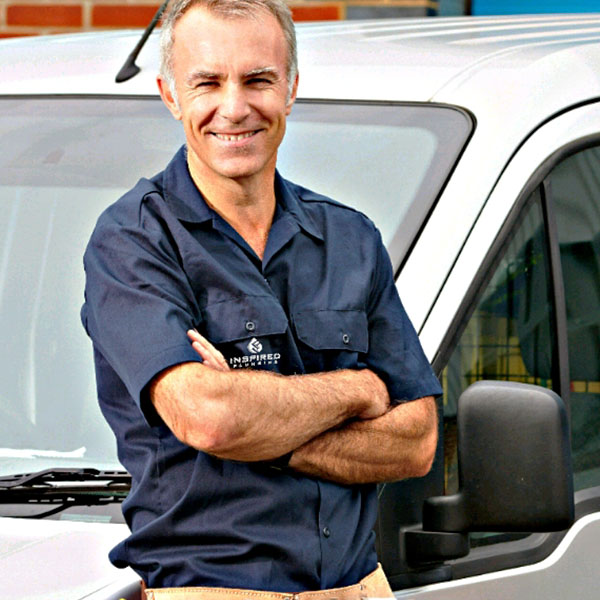 Looking for a local blocked drain plumber you can trust? You've found them
Got a blocked drain? Our family operated plumbing service has been unblocking drains since 2006 and we can service any type of blocked drain including: Toilets, showers, bathroom drains kitchen sinks and all stormwater drains. We also offer non-invasive CCTV drain inspections
Blocked Drain Services
At Inspired Plumbing we utilise the latest equipment to ensure your blocked drains are completely cleared and hassle free. Our state of the art high-pressure machines remove most tree roots infestations, stubborn grease and oil, hair and other build up and intrusions from all different sized drains.
CCTV Drain Camera
Our high tech equipment allows our expert plumbers to non-invasively explore a blocked drain and get a clear visual and exact location and depth of the cause to a blockage or collapsed pipe.
High-Pressure Jetting
We use a high pressure water jet blasters to flush and clean the drain and clear out any intrusions. Using different high tech nozzles allows us to cater to all sizes of pipes and blockages.
Pipe Excavation
Tree roots or collapsed pipework are often culprits of recurring blocked drains. For pipes that are not able to cleared our qualified plumbers can safely excavate and install new sections of pipes with minimal impact to your home and gardens.
How can you prevent blocked drains?
Preventing your drains from blockages is simple. With sinks ensure only water goes down the sink and try to catch with strainer plugs. With toilets only ever flush sewage and toilet paper avoid flushing baby wipes as Drainage systems do not make good disposal units and all other items should be disposed of into a bin.
We can diagnose your drainage problems and give you expert solutions and advice. Contact Inspired Plumbing today.
"The inspired team were great when I really needed help with my blocked toilet. Xavier arrived about an hour after my call, and fixed the job fast. Would use again."
Jennie
Annandale
"I've been using Inspired for a few years now and I would recommend them to anyone. Xavier always goes the extra mile for me"
Aiden
Five Dock
"I was really impressed with the job that Xavier did when I had an emergency situation. He got here literally within about 30 minutes of my call, and solved the problem effectively. I would recommend Inspired to my family and friends"
Amanda
Dulwich Hill
3 steps to Inspired service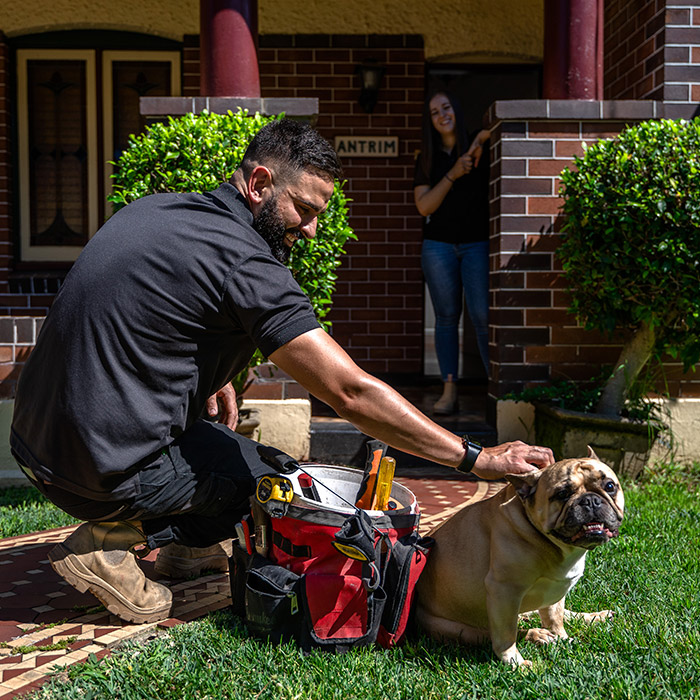 Get advice & book your appointment

Contact us by calling, emailing, using the chat feature on the website, or filling in a form online. A member of our friendly team will advise on your situation, and book a time to suit you.

Friendly, respectful, COVID-safe service

Your local plumber will call you when they are 30 minutes away, and arrive on time. All of our team wear protective equipment, and will observe COVID safe practises.

Lifetime guaranteed work to suit your budget

Your plumber will inspect the problem, and provide an up front quote, with different options to suit your budget. They will also carry out a safety inspection of your home, free of charge.
Blocked Drain? No Problem for Us
We Have Years Of Experience Unblocking Drains Across The Inner West And Beyond!
Blocked drains are undoubtedly the most common among plumbing problems for homeowners. While there are measures to take that can help prevent them, a drain in your home occasionally blocking up is inevitable.
Typically, blocked drains involve kitchen sink clogs, especially those involving overloaded garbage disposals. Bathroom sink clogs are also common -- often caused by the accumulation of human or pet hair.
A blocked toilet is typically caused by flushing too much toilet paper, other "disposable" (many of which aren't really disposable as they don't break down), paper hygiene products, small toys, or other things that would prevent the passage of ordinary human waste.
The first sign of a drain clog is when water is slow to drain. However, we tend to put off calling a plumber until the drain is completely backed up, and there's little more we can do on our own. That's OK -- we're here to help!
Although little causes the inconvenience of a kitchen sink clog or a blocked toilet. However, other types of blocked drains can be more complicated to handle.
For example, a blocked sewer can be caused by the accumulation of ordinary sink and toilet clogs but also by invasive tree roots. A blocked stormwater drain can be an even bigger problem if there's a need to remove a blockage.
In the following sections, we'll discuss different types of drains and what makes them back up and cause problems.
Our Blocked Drain Clearing Services
Our plumbers deal with all kinds of drain problems in and around your home. They range from basic (but essential) opening of household sink drains to more complicated work in plumbing stacks and sewer lines.
Basic Sink and Bath Clogs
We say "basic," but what we really mean is that these are blockages not likely to need pipe relining or replacement -- or other repairs. We don't mean they aren't frustrating to have in your home, though. Indoor sink clogs that seem minor at first can quickly become challenging!
Floor Waste Drains Blocking
Often found in shower stalls, basements, and garages, these drains carry water directly into the sewer or septic system. There are mechanisms directly beneath the drain cover to allow water to flow more freely through the pipe and sometimes to catch clogs or foreign objects so they can be removed before entering the sewer.
Basement floor drains don't get much notice until something goes wrong, and the sewer or septic system backs up into the house. That's when our customers often call us for emergency plumbing help!
Sewer Pipes and Outdoor Pipe Excavation
Tree roots or collapsed pipes are often to blame for blocked sewers - in addition to other lines connecting inside pipes to those going outdoors. Besides the sewer line, there's also the plumbing stack, which is the drainpipe that collects waste from other household drains before sending it into the sewer.
When pipes can't be cleared by merely removing obstacles, our expert plumbers will excavate and install new pipe sections with minimal impact to your home and yard.
Preventive Maintenance for Homeowners
We'd like to share some tips and strategies to head off a drain clog before it becomes a serious problem for you and winds up costing you needlessly. Don't worry, though. We're always here to help if you need us.
Treating a Blockage Before It Gets Worse
In their early stages, sink clogs sometimes can be extracted using a household plunger. Another chemical free remedy is to pour boiling water into the drain. Next, pour in baking soda, followed by vinegar. Finally, pour in more hot water.
This method works primarily by dissolving or disintegrating whatever substances formed the clog, and it's so popular because it is quite effective at getting rid of mild blockages. But it's ineffective at cutting through those more stubborn blockages.
What About DIY Drain Cleaners?
Most importantly, we highly recommend homeowners avoid using corrosive drain cleaners. While these products might claim to clear your drain quickly, the damage they might cause to the pipes can be lasting and eventually call for replacement of the affected pipes (and the pipes to which they connect) which will cost much, much more than calling a licensed plumber to deal with the initial blockage. Not to mention the fact they are loaded with chemicals that harm children and pets, and the fact that they're bad for the environment.
Call a Plumber and Save a Pipe
As the Inner West's favourite, here at Inspired Plumbing, we offer the best possible customer service.
We arrive on time, perform the needed plumbing services, and we'll only leave after doing our best to clear your clog. In the rare cases we can't unblock it in the spot, we will return with specialised tools to tackle your specific blockage.
Why can't we guarantee to clear 100% of drain clogs on the spot? The reason is that some blockages are so stubborn that we will have to return to your home with specialised equipment in order to properly clear your drain.
Always be wary of a plumber that guarantees to clear your drain on the spot, no matter what the cause of the blockage is, as this is unrealistic.
Don't throw your time and money down the drain if you have a blockage. Get help from a local, licensed, experienced plumber. Call us anytime, 24/7, 365 days a year!
Get plumbing advice
Get free advice from a licensed plumber. Ask a question and we will contact you with advice.
Request a call back
Can't call us right now? No worries, leave your details and we'll call you back at a time to suit you.
Request a quote
Tell us your plumbing problem and we'll call you back to discuss your options.