As a local, family business, we go the extra mile for you. We promise:
Request a quote
Tell us your plumbing problem and we'll call you back to discuss your options.
Local family run business since 2006
COVID safe - PPE & COVID safe practises
Same-day, on time service guaranteed 24/7
Lifetime guaranteed work on all jobs
We leave your home clean & tidy
Great online reviews & testimonials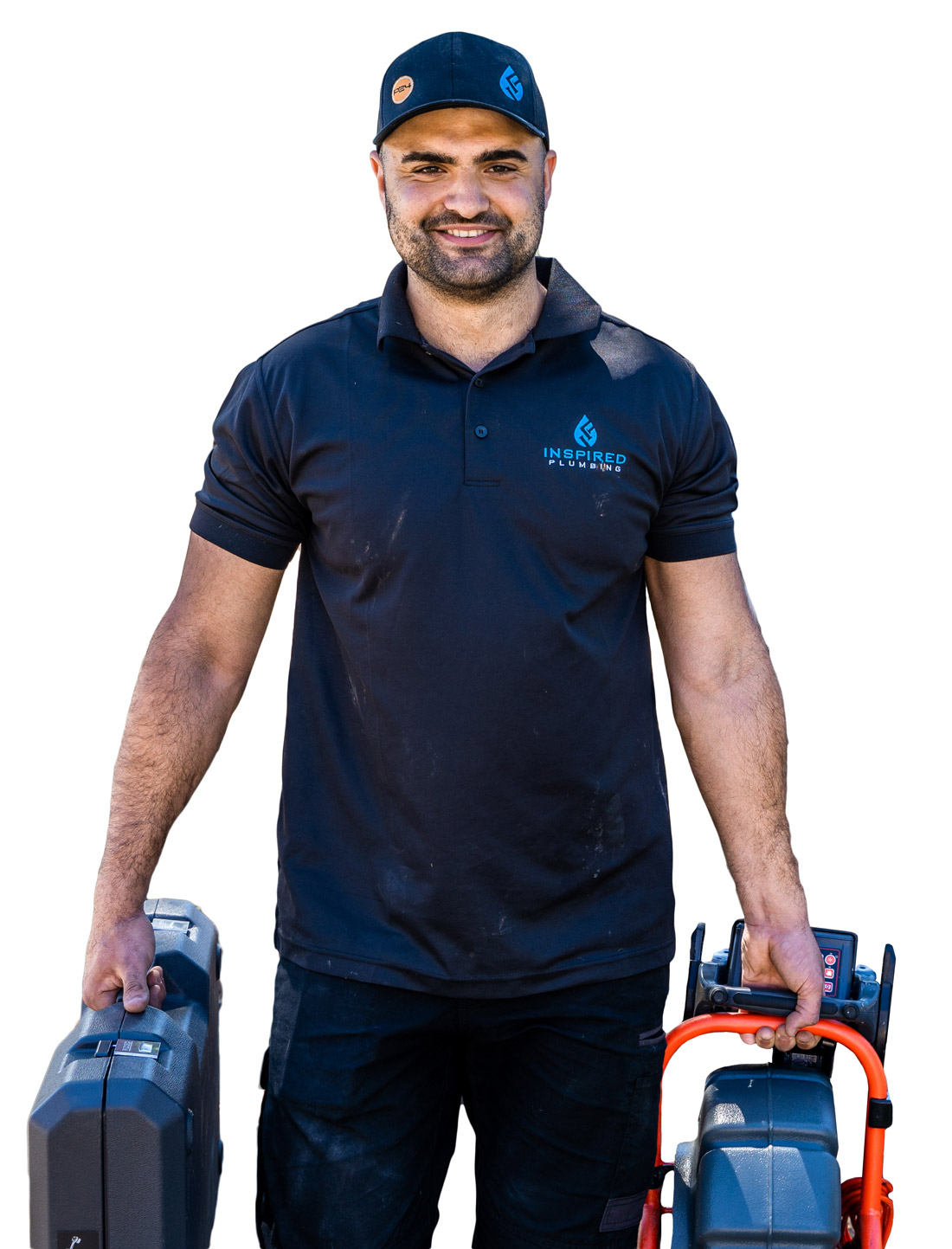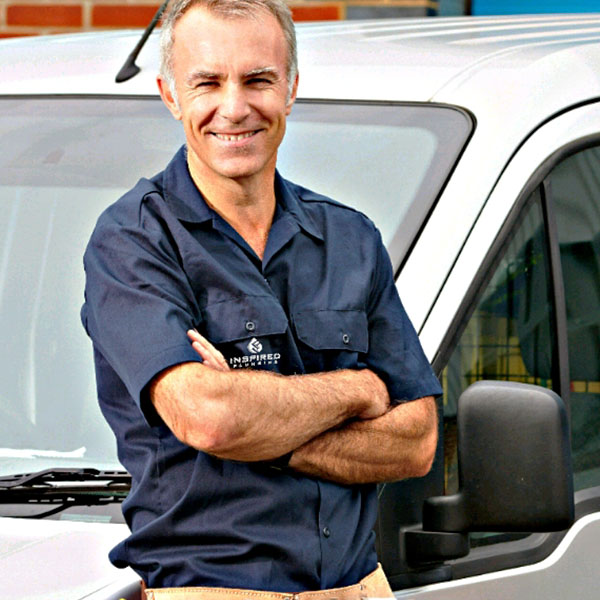 What's the best plumber Burwood has to offer? It's us!
For most of us where we live is our safe haven of comfort and a place to unwind after a hard day's work. It's also a place where we don't expect to run into troublesome plumbing predicament! From overflowing faucets, kids toys blocking up the toilet and drains oozing slimy water. At Inspired we're here 24/7. So whether its an overlooked leak that has turned into an emergency or a planned new installation, let us help.
We at Inspired Plumbing have amassed 15 years experience as a licensed and fully insured plumbing team. So no matter what your plumbing query is, there's no domestic plumbing issue we haven't encountered and dealt with in our 15 years experience.
Simple pricing and guaranteed repairs
Unlike some others we don't half do a plumbing job, to create more plumbing work further down the line. We do the job right, first time, every time. And because we're a credible, trustworthy and well-established plumbing business we are happy to complete all of our work with 100% guarantee. We use a flat-rate pricing policy, so you will know before the work starts, precisely what it will cost. So no unpleasant quibbling when we complete the task. A different way? Yes, the Inspired Plumbing way.
Only the best
We pride ourselves on selecting only the best, qualified, most experienced and trustworthy plumbers to resolve your plumbing issues. Respecting your home, our plumbers will remove their work boots at your front door. We also clean up after any work which we do, so no pile of wet rubbish to clear! There is a wide array of work we carry out, not just flooded bathrooms and dismal drain obstructions. If you're thinking of a new installation like a new bathroom suite or shower, changing your dishwasher or moving pipes, we can help too. Call us at Inspired and make your home a pleasure to relax in again.
How best to handle an issue with your plumbing?
Don't panic! It's essential initially to locate and turn off the water valve or main in your home. Become acquainted with where it is. It's surprising how many people don't know! Of course, if your plumbing is connected with the electrical power, or located nearby, it might be an idea to switch the power off on your electrical board. It might be a good idea to put on some old clothes too, as issues with water can be messy! Call us at Inspired, and we will be able to help you get to grips with whatever plumbing problem you've hit upon, we are local so can be with you in a hurry. One of our courteous and professional plumbers will fix your issue in no time, no worries.
Prevention
Don't get fooled into putting off your plumbing issue. A small leak now which would be easy and inexpensive to repair can turn into a cascade of water running down the walls! Add to the calculation, additional time, effort and damage to property, time off work and general disruption. These are just some of the reasons we advise you to be vigilant to keep your plumbing in good working order. Inspired are here, trained and licensed to help you, give us a call and speak to one of our friendly team. When your plumbing works well, so does your home.
The reasons why Inspired are your first call for Burwood plumbers
As an experienced and long-standing plumbers business, we have often seen that a small issue, if neglected, can turn into a plumbing nightmare. Increased repair costs and all the wasted time and inconvenience this causes. Just like a car which is serviced and well taken care of, your home plumbing will be reliable and in good working order if it's maintained properly.
Checks and maintenance
A simple thing most of us should do is to view regularly anywhere there is plumbing present. A weekly glance under the sink, to check the pipes for any new corrosion or drips, perhaps feel in the cupboard to make sure nothing is wet. Visually examine around basins, shower trays and toilets. Putting your hand at the back of pipes and under the cistern is an excellent way to spot a newly developed crack, with water flowing out. Baths and shower trays sometimes do have small hairline cracks, which can lead to terrible water egress and staining. Remember, you are paying for every drop of water in your home, whether you utilise it or its an unexpected leak. The added expense can quickly mount up and become much more than what it would have cost to have repaired initially.
Professional, scheduled servicing
Have you noticed unusual sounds when flushing? Is it taking an age for your bathwater to empty? It could be the early signs of a potential problem with the plumbing. If left unresolved, it will lead to an expensive repair. It's advisable to have your boiler checked and serviced by one of our experts regularly. These scheduled services can also help you spot an issue before it happens. A part replacement during appliance service can save you money on a complete replacement. Regular maintenance is essential to ensure your safety, so give us a call 24/7 and speak to one of our team. We're local to Burwood and available Sydney-wide.
"The inspired team were great when I really needed help with my blocked toilet. Xavier arrived about an hour after my call, and fixed the job fast. Would use again."
Jennie
Annandale
"I've been using Inspired for a few years now and I would recommend them to anyone. Xavier always goes the extra mile for me"
Aiden
Five Dock
"I was really impressed with the job that Xavier did when I had an emergency situation. He got here literally within about 30 minutes of my call, and solved the problem effectively. I would recommend Inspired to my family and friends"
Amanda
Dulwich Hill
3 steps to Inspired service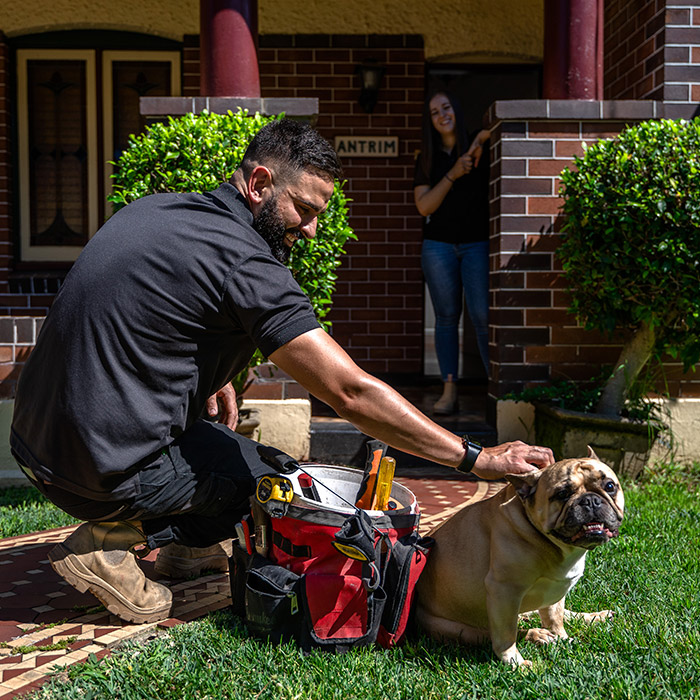 Get advice & book your appointment

Contact us by calling, emailing, using the chat feature on the website, or filling in a form online. A member of our friendly team will advise on your situation, and book a time to suit you.

Friendly, respectful, COVID-safe service

Your local plumber will call you when they are 30 minutes away, and arrive on time. All of our team wear protective equipment, and will observe COVID safe practises.

Lifetime guaranteed work to suit your budget

Your plumber will inspect the problem, and provide an up front quote, with different options to suit your budget. They will also carry out a safety inspection of your home, free of charge.
Domestic plumbing Q&A
What if I notice the water pressure has fallen?
On a water heating system, a fall in pressure, especially if it falls into the red area, is usually a sign there is an underlying problem. Some people happily adjust the boiler tap to put more water into the system. However, this doesn't account for where the water is going?
It can be a sign that water is making its way out of the piping somewhere. So this means that the leak remains undetected and crucially, unrepaired.
Therefore, water from the leak can exit pipes through plaster walls, under floorboards and concrete. If left unrepaired, even small leaks can compromise these substances and leave terrible damage.
The repairs to plasterwork, timber and flooring resulting from this can be costly and messy to fix. The boiler safety valve may completely shut the boiler down. So please don't wait.
Call us, and we can detect the leak and get the problem sorted fast. Let one of our licensed plumbers restore your pressure 24/7, with fixed price repairs 100% guaranteed.
What about using draino like products?
Widely available corrosive substances like draino are hazardous chemicals. On the reverse of the pack, the manufacturers warn (in small print) just how much damage they can do, to eyes and hands if used incorrectly. But did you know that these products are often so harsh that they can melt your pipework? Or that they can chemically burn through plastic piping and end up back on your floor, for you to clean up? They are poisonous to the environment, and they cannot clear through all blockages. For numerous reasons, we don't recommend them. Call a local expert at Inspired Plumbing Burwood, and we will fix your leak, using the latest cutting edge plumbing technology. You can trust us to be reliable, fast, and we won't damage the environment.
Drops of water when the taps turned off?
There's nothing quite as irritating as the sound of a drippy tap. But is it a problem? Well did you know that a leaky faucet can lose up to 24,000 litres of water annually? And you are paying for every drop, can you afford not to get it repaired? It may only need a replacement washer costing only a few dollars, but left neglected you may have to get the whole faucet replaced. Even then this is still more economical (and easy on the ears!) than paying for thousands of litres of lost water. Call one of our plumbers today. We can advise you on how best to tackle your plumbing issues. Our team are available 24/7 in Burwood and Sydney-wide.
Domestic Plumbing in a nutshell!
The average humble domestic plumbing system, we don't pay much attention to it, until it's not working. Yet in reality, these pieces of piping, metal, circuits and washers are a finely tuned machine to deliver clean, fresh water to our home. Ensuring we and our home maintains good hygiene and have potable water for drinking and washing. This system also takes away all of our wastewater to reuse where possible by filtering and recycling this most precious commodity: water. Keep the clean water and your household running safely, especially in this current time, when cleanliness is everyone's prime concern. Inspired Plumbing, are available every day of the week, every week of the year. Competitively priced, quality workmanship, 100% guaranteed.
Who is the premium Licensed Plumbing Company in Burwood?
Who would you trust with repairing the crucial plumbing in your home? We are friendly yet professional plumbers who you can approach for advice. We are an established plumbing company with more than 15 years of experience. We will safely repair, install and maintain any domestic plumbing you may have. And when the work is complete, we make sure to clear up our work area. We have a long-established reputation for quality to uphold. Hence, quality and expertise are guaranteed. Inspired Plumbing is straight forward with their assessment of your plumbing job, and give you a no quibble fixed price.
You can trust that we are fully insured and licensed to carry out any plumbing work in your home.
Only the best is good enough for your home and family. Inspired Plumbing is the prime choice for all of your plumbing requirements in Burwood.
Get plumbing advice
Get free advice from a licensed plumber. Ask a question and we will contact you with advice.
Request a call back
Can't call us right now? No worries, leave your details and we'll call you back at a time to suit you.
Request a quote
Tell us your plumbing problem and we'll call you back to discuss your options.